Yes. To pay tribute for this movie, I've decided to cover Fight Club, an awesome movie released 10 years back (October 1999, so that leaves us 2 more months!) This movie stars Edward Norton (guess I'm posting another Norton movie) and Brad Pitt!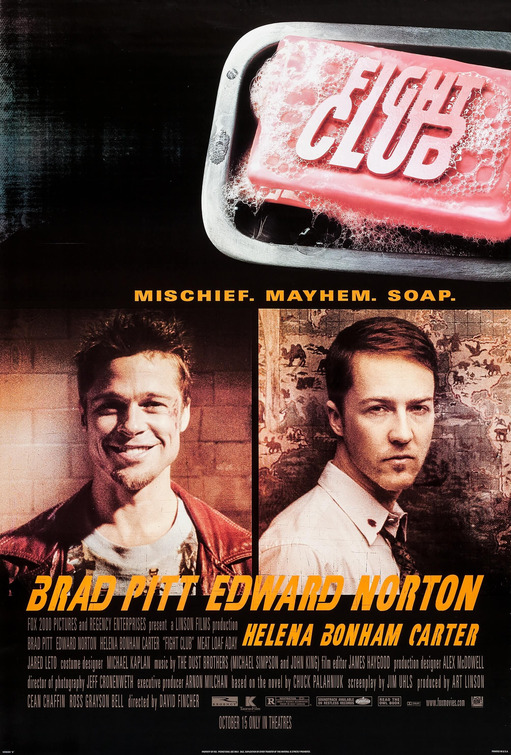 Trailer:
iMDB:
[imdb]0137523[/imdb]
Verdikt:
Ingenious! Seriously, this movie definitely has to be the best of Norton's mindfuck movies! This movie is basically about an insomniac who meets a soap-maker. Both of them together realise their agression towards advertisments and the economy and decide to hit each other. Suddenly, a lot of people get interested in showing their anger and they all join this so-called cult called "fight club", all made up by the soap-maker. But the soap-maker seems to make more than what is expected and decides to cause more ruin than the insomniac had suggested.
Brad Pitt - as awesome as he is - impresses me the most. He teaches Edward Norton to vent out his anger and as a narrator, Norton beautifully explains the movie. I have not read the book but the author himself claims that it is a beautiful movie - more better than the book itself! The movie itself teaches us that fighting is not showing off your balls but showing your feelings towards society. The end is seriously mind-blowing as you can see the extent of the Narrator's insomnia and where it finally leads him to. My rating = 9/10
Favourite quote:
Damn, lots of good quotes. Here's one: "You're not your job. You're not how much money you have in the bank. You're not the car you drive. You're not the contents of your wallet. You're not your fucking khakis. You're the all-singing, all-dancing crap of the world. "